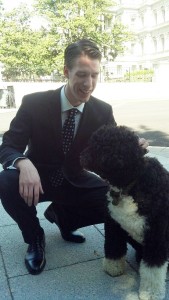 Politics has always been a side passion for Tor Finseth. He graduated in the spring of 2012 with a bachelors in aerospace engineering, and while in school, he served as Ames city council liaison. Finseth hoped one day to combine his love for space with politics in the form of a government job. So when Vice President Joe Biden came to Iowa State University to visit the engineering programs, he capitalized on the opportunity.  What happened next, Finseth hadn't anticipated.  He asked Vice President Biden for a job, and got one.  Now, if the stars align, he could be the second Iowa State University alumnus to become an astronaut.
"When the Vice President came to visit campus, I hadn't planned on asking him for a job. My parents joked that I should carry a resume with me at all times. So I did, and finally the moment came," said Finseth. "The Vice President was a bit caught off guard when I asked for a position on staff.  But his staff recommended an opportunity, and from there, I got into an internship program."
For the past 4 months, Finseth has worked in the Eisenhower Building, next door to the West Wing, for the Presidential Personnel Office, as an intern.  Through networking in his office, and some NASA personnel who were eager to offer support, Finseth was told to go back to school and pursue a masters degree.  Once completed, his contacts said they would give him the guidance necessary to compete in the astronaut selection process, and maybe someday, he'd go into outer space.
"I've always loved space. In high school I read astronomy textbooks for fun. But I never dreamed this is where my path would lead," Finseth said.
Now, Finseth is examining graduate schools, and considering his alma mater once again. He credits his willingness to learn and resilience as qualities that have helped get him to this point in his career.
"There isn't a single route to take. You have to be in it to learn something. It's still crazy to me that I worked at the White House. Just goes to show that you never know what's going to happen," Finseth said.